Faery Events
Every day had a number of events scheduled, from musical performances to panel discussions, classes and meet-the-artists, to the celebrated Fashion Show and Costume Contest!
We were always busy!
I had a good time at my "Faery Wings to Wear" class with Sherri Morgan, creating 2 sets of glittery wings with a group of about 10 creative, cheerful people. Sherri was a clear and patient instructor and everyone succeeded with their glorious, transparent wings!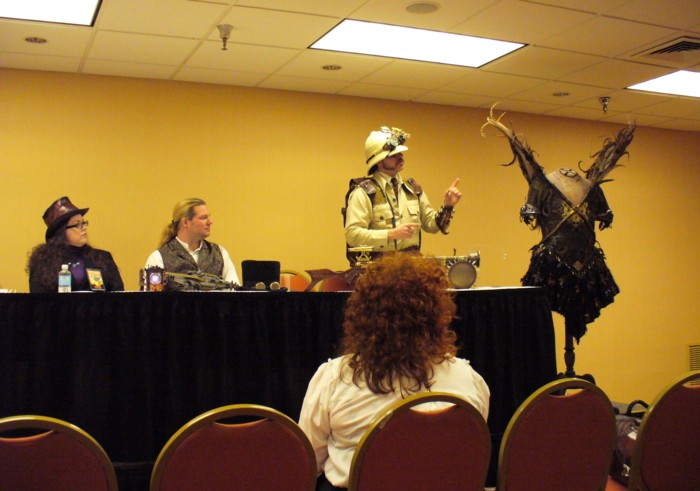 The SteamPunk Faeries panel was very informative: so what is SteamPunk, anyway?
Think Victorian era (steam engines) combined with Punk. Faeries tie in because of their strong appearance in Victorian times and they don't like engines and metal and machines, so any devices they'd prefer would be clock-work and steam-driven.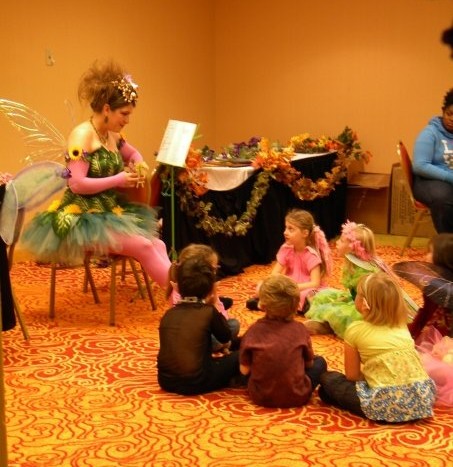 We stuck our heads in to The Pixie's Den to see the children at play...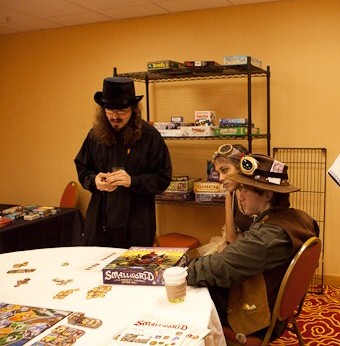 ...while we got in on the games in the Wizard's Lair (trying out both "Aquarius" and "Tsuro") while listening in on a game of "Werewolf".
Saturday afternoon we were treated to a Faery Fashion Show! The vendors got to highlight their hottest creations in a well-attended fashion event! This was great fun and wow, the costumes were breath-taking!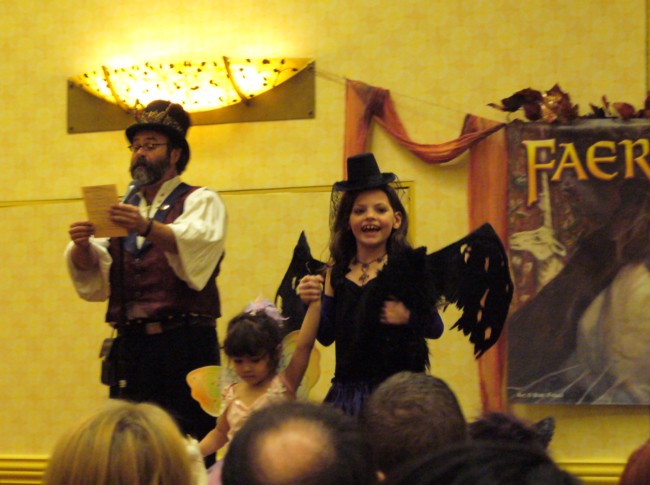 Okay, does she look like she's having fun!? It was heart-warming how everything was child-friendly at this Convention.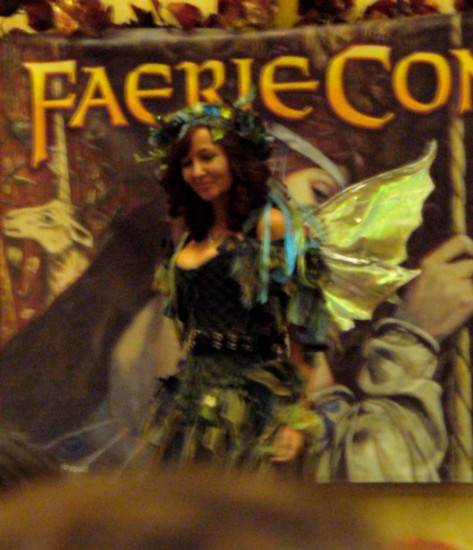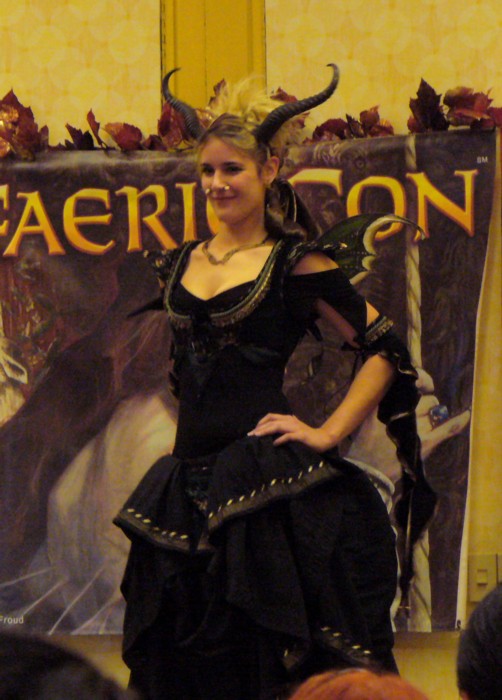 From the traditional, nature fey...
to the horned Shee you don't want to mess with!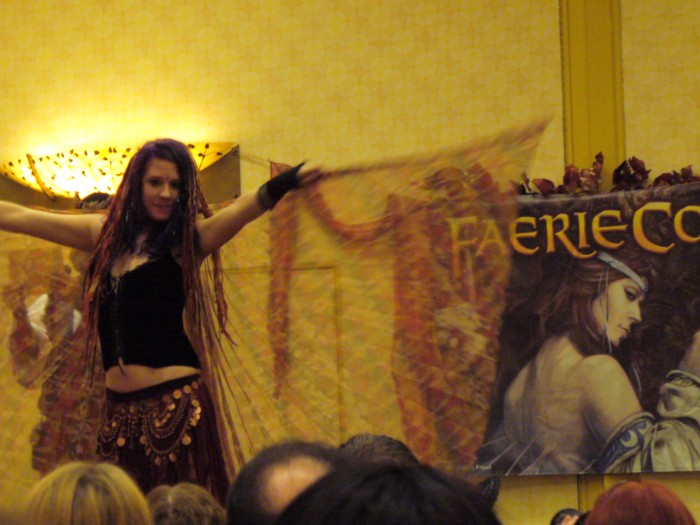 Again, Mark did a wonderful job as MC.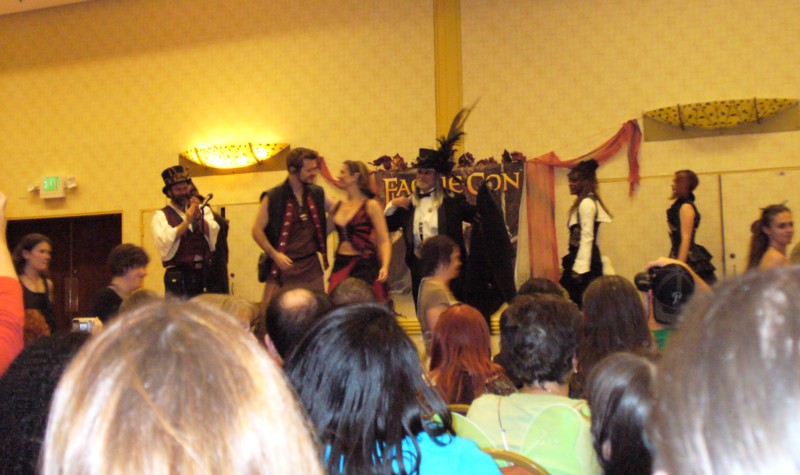 After seeing all these amazing costumes and after being awe-struck by the pageantry and glory of the Balls, we didn't know what to expect at the Costume Contest on Sunday.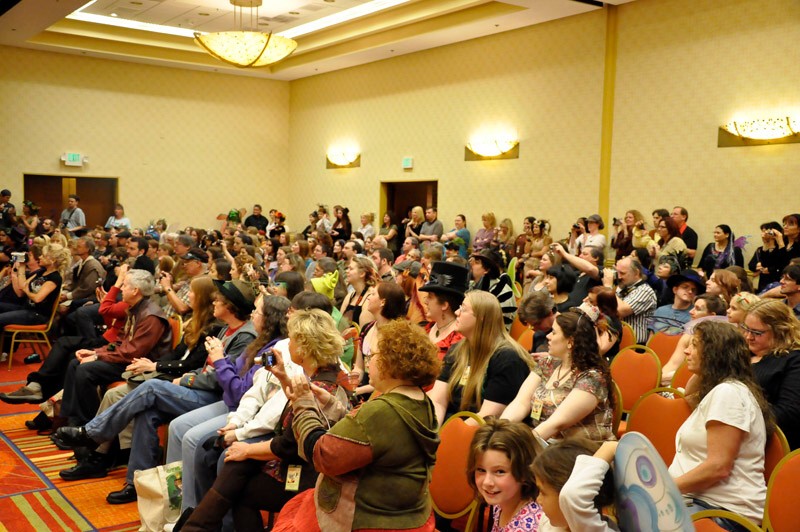 The crowd was ready and eager!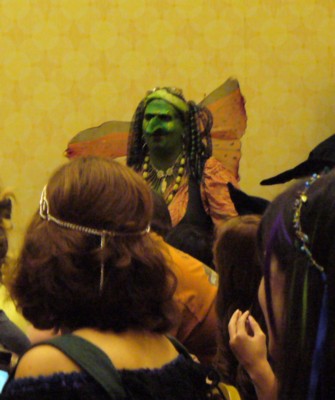 The goblin heckler was ready and getting nasty!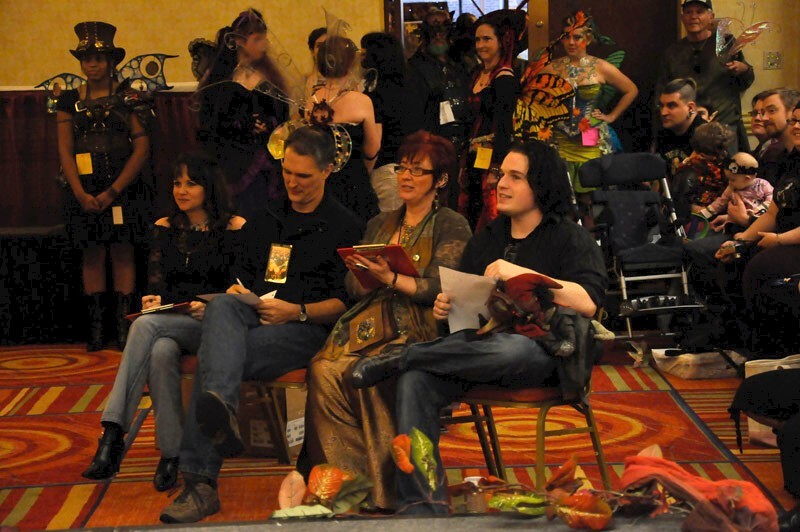 The judges were ready and waiting! (That's Toby Froud on the right.)
And we were not disappointed!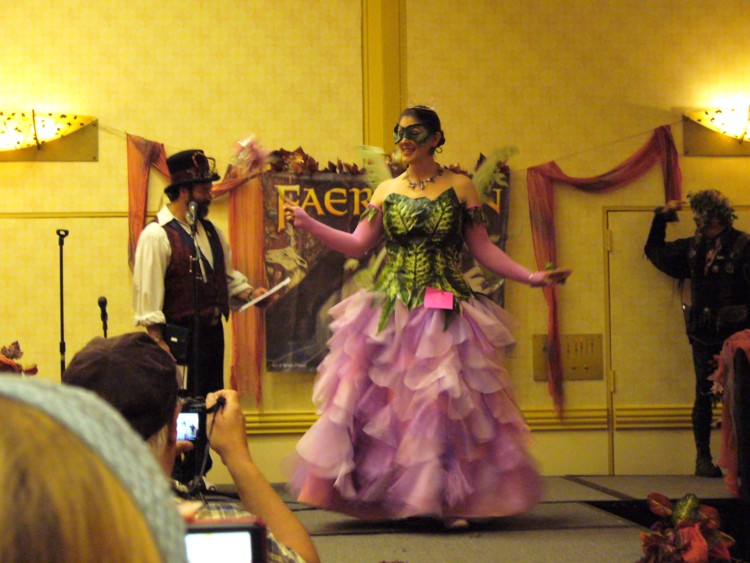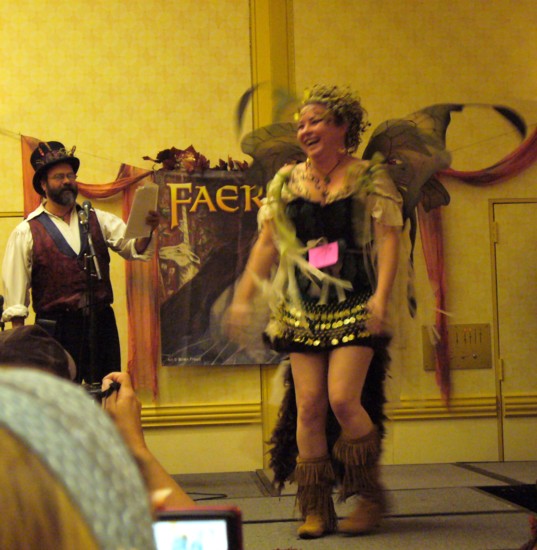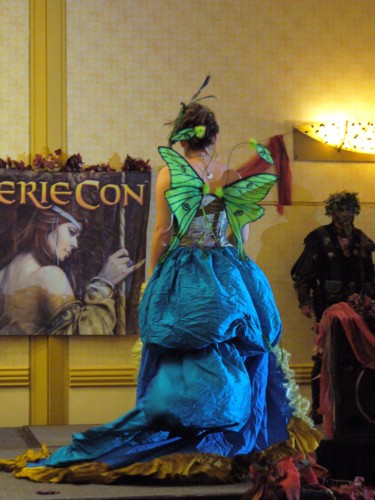 Beauty and contagious laughter!
Toby and his sidekick Ignatz came on stage to award the prizes.
And the winners are... Here are the "Bad" Faeries!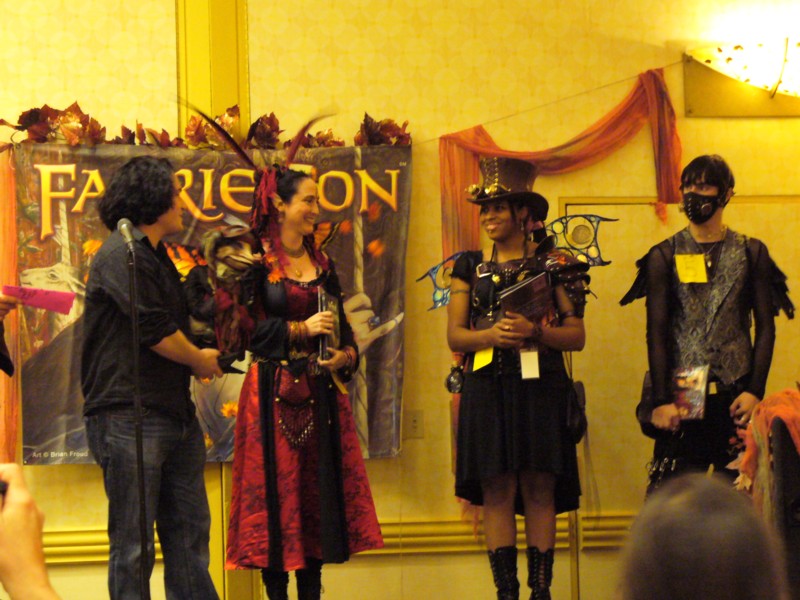 Here are the wee faeries!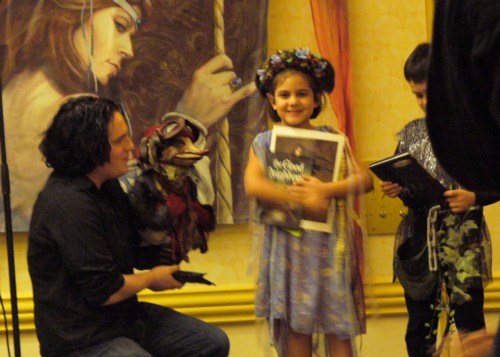 And the winner of the "Good" Faeries category got more than she bargained for!
Turns out, the husband-to-be came up all the way (ten hours) from Kentucky to ask "Will you be my faery forever?" She had no idea he was there and in the past he never attended a Faery Convention with her. She was almost going to burst into tears but instead started jumping up and down! It was a glorious moment to share! And of course she said "YES!"
And so the FaerieCon came to an end...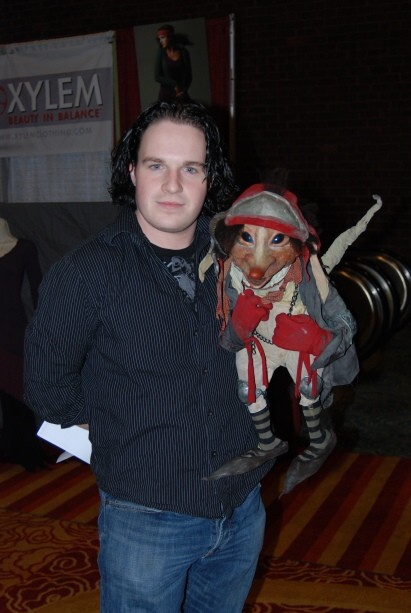 We were honored to be in the presence of Faery "royalty"...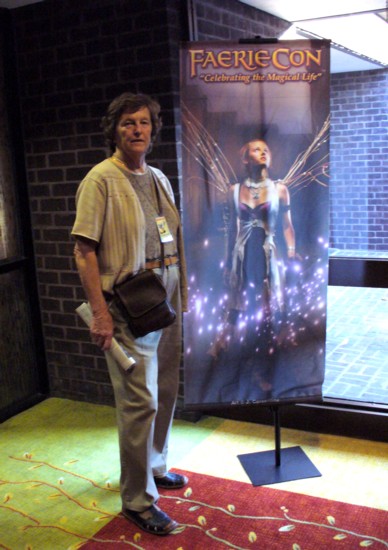 ...and thrilled by the weekend-long feeling of belonging and positive energy!
We even got a chance to personally thank
Mark and Billy
for their dedication and perseverance for what was a very long weekend for them; you guys were amazing!
Mom and I still had 2 days to enjoy Baltimore, to see what we did click here!
Oh, how empty the hotel seemed when the faeries all disappeared...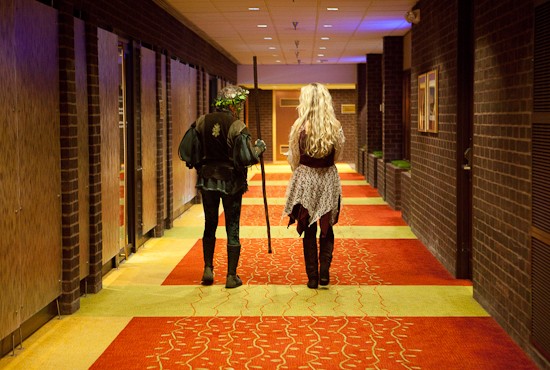 Photos by us or borrowed off the FaerieCon website or its facebook, http://conjuringink.wordpress.com:80/2009/11/08/faeriecon-2009/, or http://www.viceland.com/blogs/en/2009/11/13/among-the-oaks-and-elders/
PS There are rats in Baltimore! http://www.smithsonianmag.com/science-nature/Crawling-Around-with-Baltimore-Street-Rats.html