Favorite Faery Artists
The Faerie Marketplace! What better place to spend the afternoon, in between panel discussions, a fashion show, costume contest, etc...
There were a number of artists that really stood out... here's the marketplace: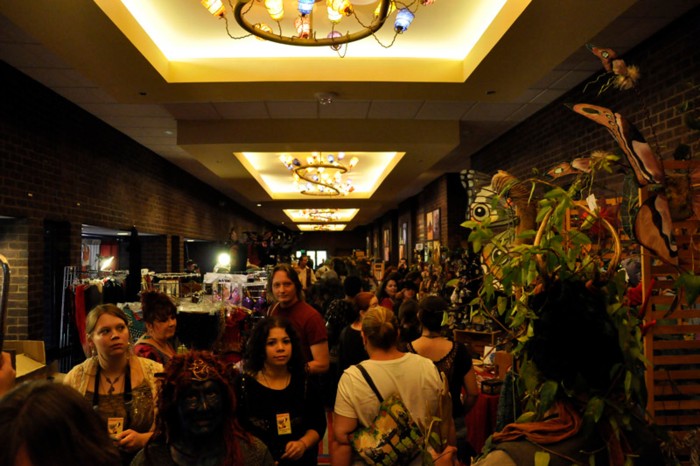 Crazy, crowded, full of magical sights and encounters! (Take note of the cool lighting fixtures!)
Here we are shopping, someone photographing our rear-ends!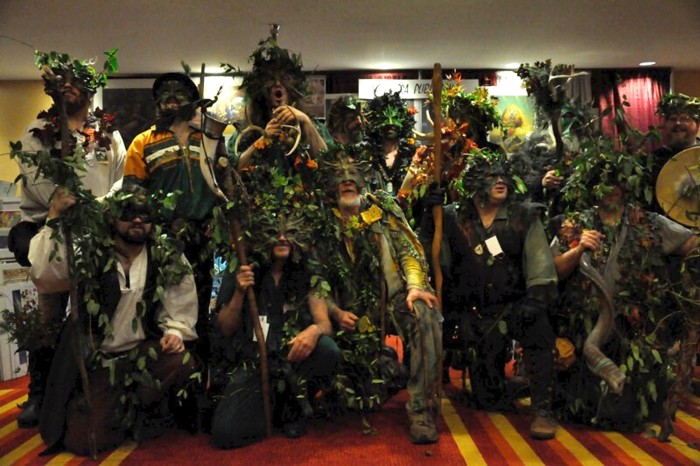 We were lucky to be around when the Green Men came to give their blessing to the vendors, handing out acorns. What a jovial group!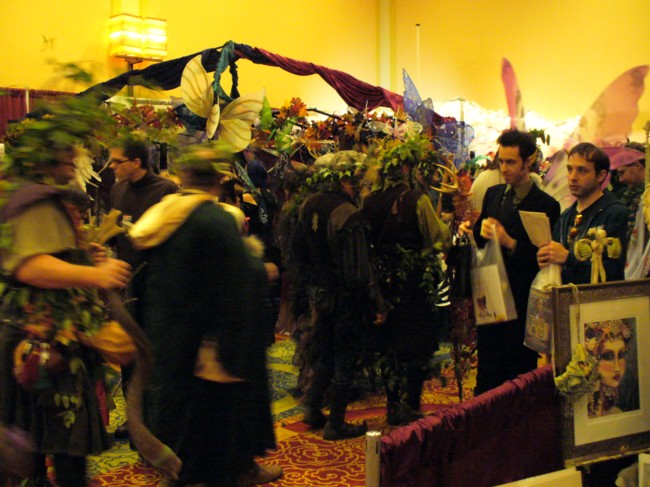 Of course, in such a magical setting, one can expect love at first sight, and so it was. The offerings from The Goblin Bazaar were one-of-a-kind wee faeries, goblins and other strange critters, safely enclosed in different containers (for their safety or ours??), but it was the Will-o-the-Wisp that stole my heart. Of course, it was a thrill to hear it was a Will-o-the-Wisp and also, of the many critters, her jar was one of the few that wasn't sealed!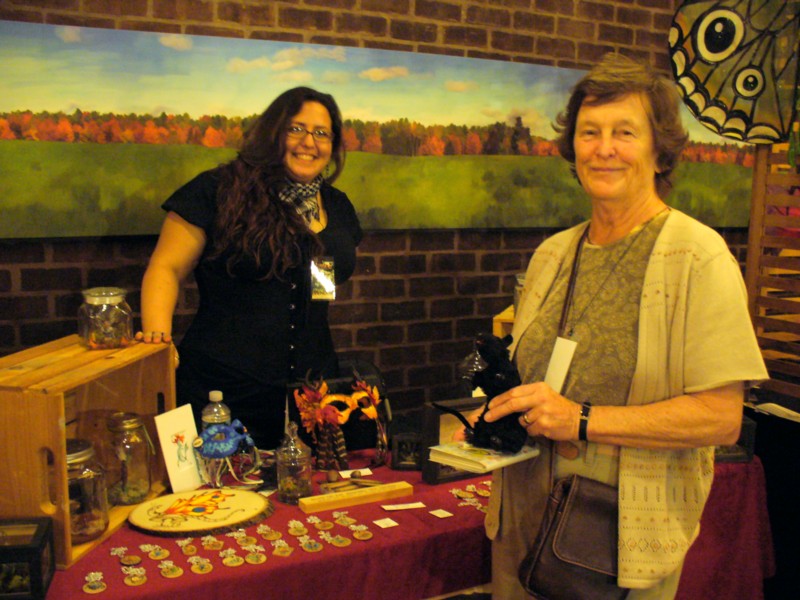 Kim was introduced to Harley, who was part of my Dark Faery costume. Turns out Kim has a soft spot for rats, too, go figure!
Here's Will-o!
Of course, we left the window open in our room every night so she could go out and return as she wanted.
Here are my other newly adopted critters with Will-o: a unicorn pendant and flying mouse both from Red Wyvern Studio and a Kelpie's head (coming out of the swamp) by Steamgoggles.
My second favorite was Filigree...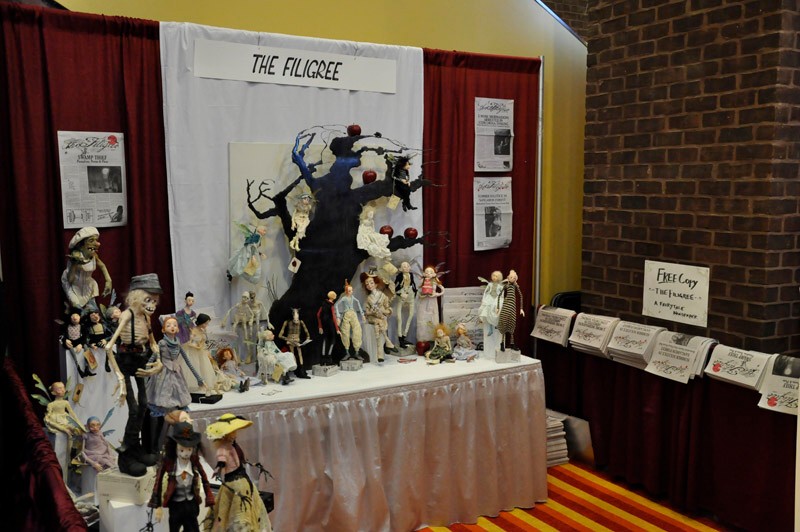 Their offerings were rather dark and creepy... but in a whimsical, sweet way!
Their newspaper was a treat to read, I really enjoyed it and, in December 2009, they'll go forward with their idea to offer subscriptions!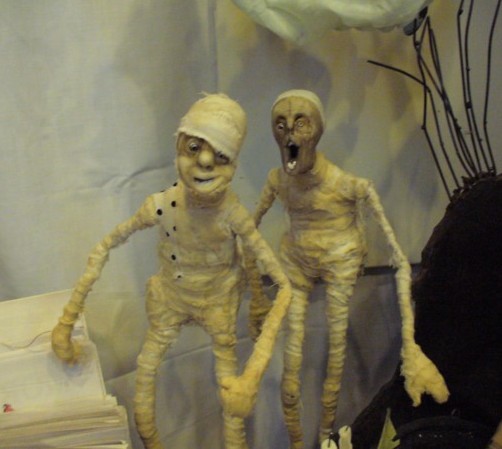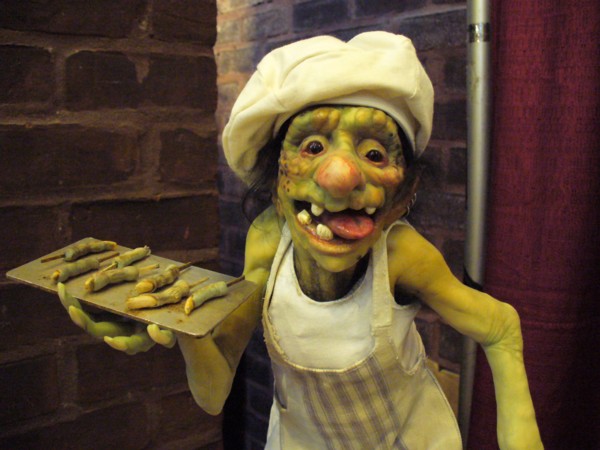 Unfortunately Mom was not nearly as enthralled as I was... in fact she flatly refused to invite the candy troll home, even though I nearly begged.
But look Mom, he can cook!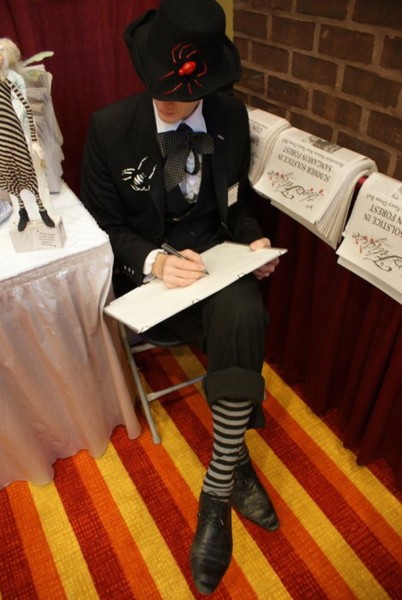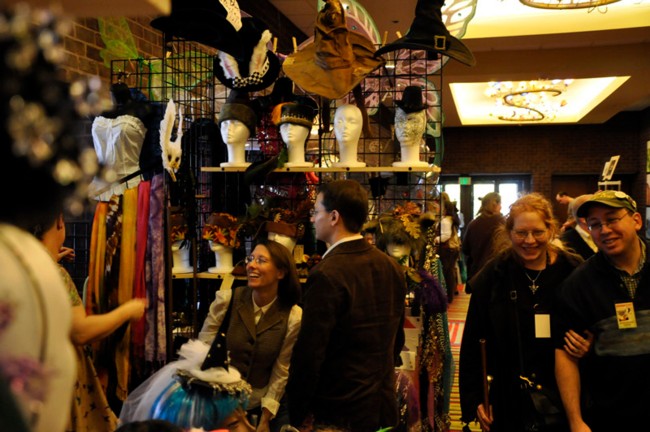 My third favorite? Moresca! I tried on 2 exquisite corsets, the workmanship was excellent and the fit very good. They were very faery in their styling, truly beautiful... but there are so few places you can run around in a faery costume!
We did, instead, bring home some more useable items from another vendor: full, sweeping skirts and a Turkish vest.
Here are a few other artists that stood out: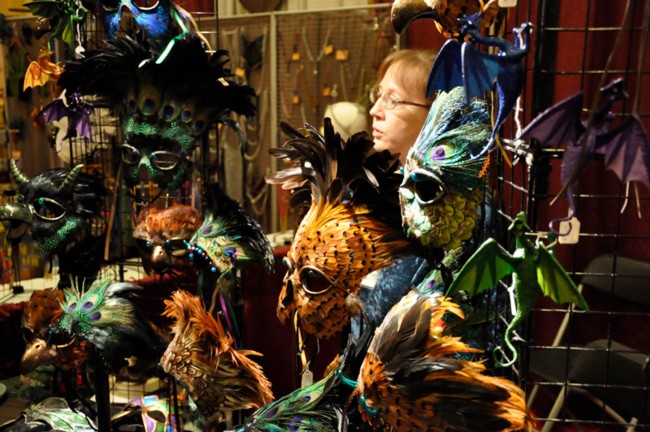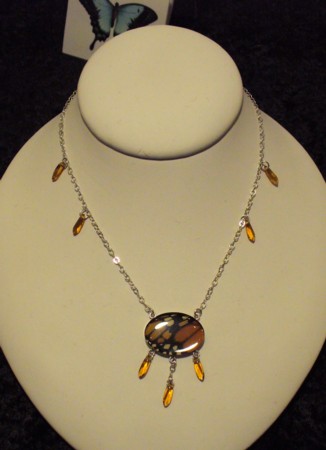 Wings of the Woodland presented stunning jewelry made with actual butterfly wings! Wow!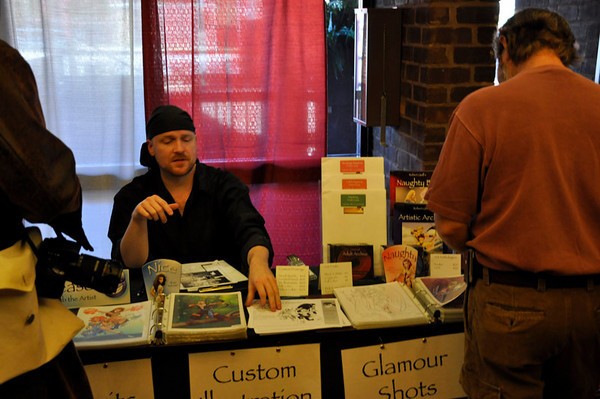 This fellow was a hoot! His sign: Please Disturb the Artist!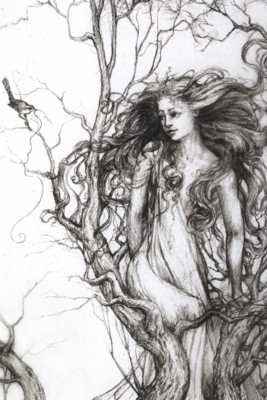 Some of Renae Taylor's beautiful work came home with us, in the form of cards.
And Mom's favorite artist was the body painter. Elf ears anyone? He would apply them for you, they looked great!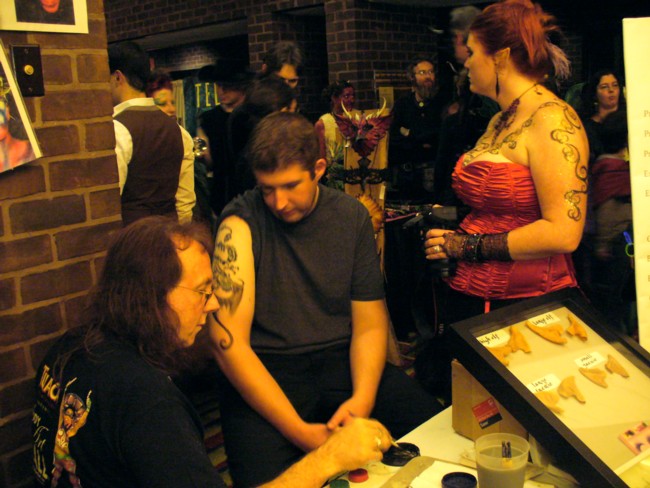 Continue by clicking here.
Photos by us or borrowed off theFiligree.com, the FaerieCon website or its facebook